THE land of Pala and whole Meenachil Taluk is blessed with faith, wealth & Health. Majority of the population is farmers. St.Thomas Cathedral Church is situated on the banks of Meenachil river, facing Pala town, is the ancestral home for worship to all faithful far and near place.
In 1950, with the formation of Palai Diocese, Pala Valiapally was elevated to Cathedral. The old church as of now built in the 18th century in Portuguese art & style.The altar in this church is attracting many tourists.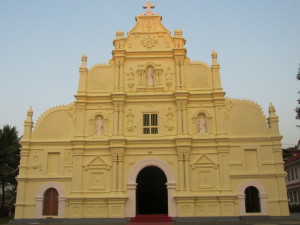 In view of insufficient space in the old church, a new church was built with all facilities asper the guidance of Mar Sebastian Vayalil. The New church was built in western "Vasthu Vidhya", Indian Thachu Sashtram & Eastern Silpa Kala. The new church was consecrated by Cardinal Mar Wladyslaw Cardinal Rubin, the Prefect of the Congregation of the Oriental Churches on January 01, 1981.
Cathedral parish has now a strength of 1200 families, 6000 plus members and many institutions. Out of the great veneration and affection towards Thomma Sleeha (St. Thomas) faithful are thronging in large numbers in the church on Wednesday for Novena.
The Cathedral church celebrated its Millennium (1000 year) year in 2001-2002.
Many famous Dignitaries are from this parish. Of which the first Bishop of Pala Mar Sebastian Vayalil, Blessed Kadalikkattil Mathaichan, Mar Thomas Menamparambil (Ex-Arch Bishop of Guhawati ), Prof. K.M. Chandy (Ex-Governor) , Mr. K.M. Mani (present Finance Minister) are few among them.
The town 'KURISUPALLY' constructed with stone cubes is a land mark to Pala town and Meenachil taluk. This Kurisupally is dedicated to Mary the Immaculate (Amalolbhava Matha) and is maintained under the supervision of Cathedral church.
The Main Thirunal (Feast) of this church is RAKKULI THIRUNAL (DANAHA OR EPIPHANY) on 5th and 6th of January every year. On 5th Jan during the night procession , the Kadavupuzha Hindu family lights the lamps around the KAL KURISU in front of the church to express their solidarity and devotion towards St.Thomas for the favours received by their ancestors. The Main attractions on Rakkuli Thirunal are SISUVADA PRADHARSHANAM (a drama on infant Martyrs) on 5th night and MALA UNTHU Procession on 6th Jan. Many people far and near and those who had migrated to Malabar & Hi-range are very particular to visit the church on these days.
The DUKHRANA THIRUNAL (St. Thomas Day) starts with nine days NAVANAAL Novena and ends on July 03 with high enthusiasm and participation by the faithful.